---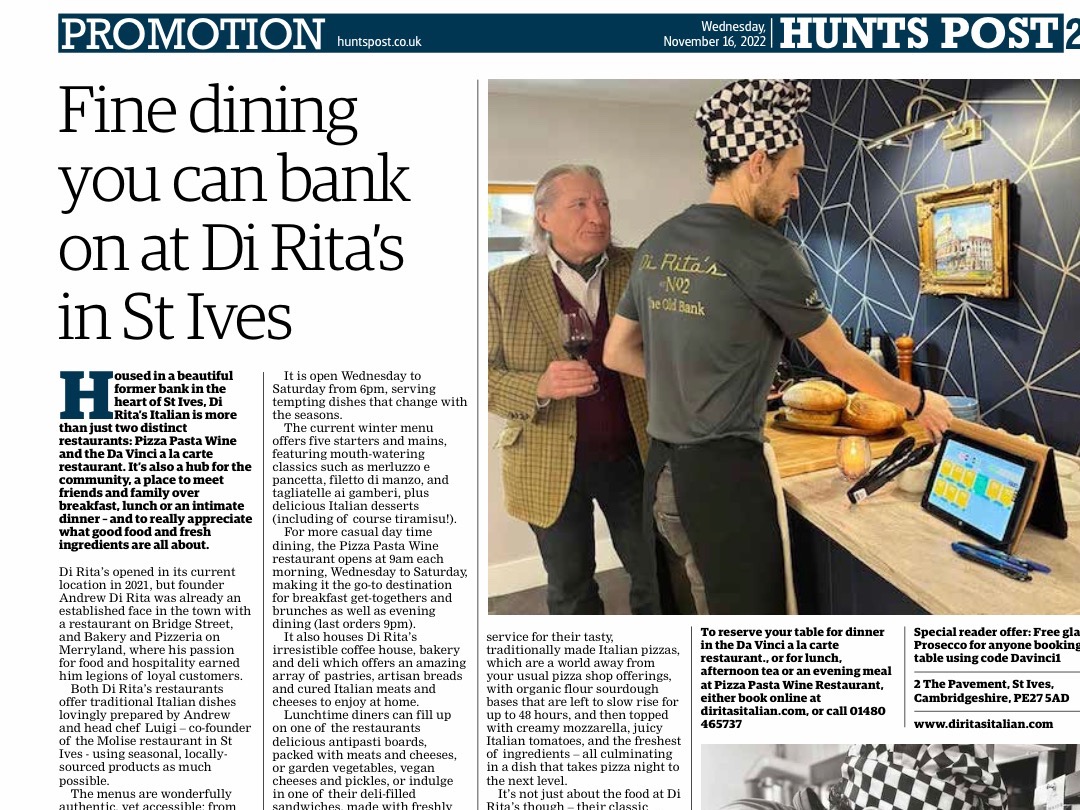 "Sky high quality with brilliant value every time!"
Review, Restaurant, Opening Wednesday 11 Jan
---
We are back! This year we open Di Rita's with both engines running:
The Fine Dining Restaurant - The Da Vinci (open Wed to Sat from 6pm)
The vibe? Intimate class that celebrates the best regional cooking whilst the exciting cocktails and impressive wines will have a big impact on your evening. The constantly changing seasonal menu in this restaurant will be sure to keep your taste buds surprised.
This restaurant is a feeling that cannot be described but immerse yourself in the food & wine and you will sure to be living in the moment! You can reserve a table for the whole evening in this restaurant by visiting our website www.diritasitalian.com or giving our front of house team a call on 01480 465737
The Pizza Pasta Restaurant (open Wed to Sat from 9am)
The vibe? The buzz is as important as the food! The trendy bar and high ceilings, the chefs busy preparing pizza and pasta and you will often see the chefs come out to the deli preparing their toppings such as joints of parma ham for the famous San Daniele Pizza -gives this restaurant the atmosphere of being in busy Naples! To make a reservation visit our website www.diritasitalian.com 01480 465737
This restaurant opens at 9am where it is surrounded by our bakery & deli serving fresh organic breads, treats and of course our famous italian coffee! Stay for breakfast and lunch or dinner! Shop in our deli and take home kitchen must have ingredients such as La Molisana Pasta which comes from the same region as Chef Luigi, pasta sauces, pesto and much more!
Take away freshly prepared rolls and salads are made whilst you wait!
We also offer our Pizza Take Away Service where you can order pizzas online ready for collection! All our dough is fresh so it is wise to order early to reserve your spot! Take advantage of Wednesday Madness with Buy 1 pizza get 1 Free on all Pizza take aways! www.diritasitalian.com
---
---